One Simple Cheek Swab – Three Easy Steps!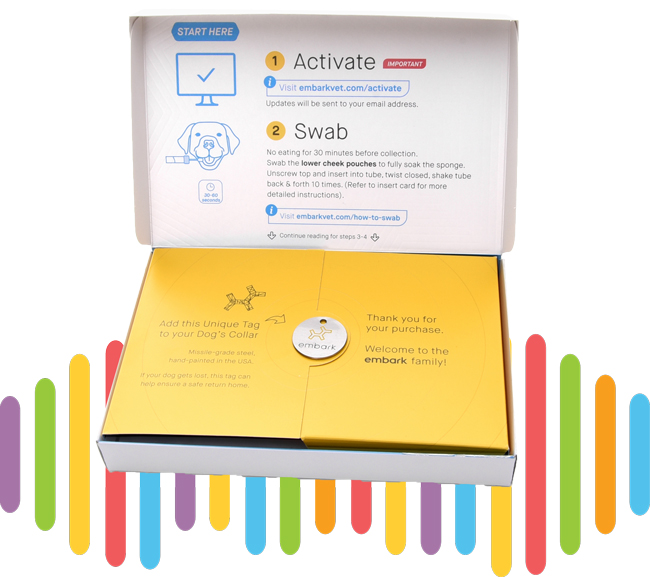 Activate
Go to EmbarkVet.com to set up your own personal account after placing your first test order. Activate your kit(s) for each dog. All your results are permanently stored in your account for your reference.
Swab
Follow the easy instructions to swab your Golden's mouth for DNA. Make sure to follow the instructions and be sure to separate your dogs and their toys for a couple of hours to insure you are not co-mingling saliva.
Send
Drop in the mail with the prepaid mailer.
An additional Mailing Fee of $10 applies for International Tests.
Any Golden Can Participate in Genetic Testing
You can test Goldens of any age to make informed breeding choices. You can also make arrangements directly with Embark to test dogs who have passed which have previously been tested for a few genetic conditions with Optigen, or with Frozen Semen of Goldens who are no longer with us, to get a comprehensive Genetic Report for your dog. An Embark Genetic Panel will give you a wealth of information about the genetic makeup of historical dogs from your breeding program, and allow you to calculate Genetic COIs with Embark. You will also be contributing to the Genetic Database and Health Research for Goldens.
Health-Tested Parents = Healthy Puppies
Prospective Golden Retriever Owners want to know your dogs have been health tested. You'll get a printable certificate when you receive your Embark Genetic Testing Results to show your puppy buyers that you are contributing to the health of the breed by using your results to avoid accidentally doing Carrier x Carrier breedings which may result in Goldens affected with devastating Genetic Conditions.
Next Steps...
To order your $129 Discounted Embark Genetic Tests at any time, just click on this link. Order 365 Days a Year 24/7 – Swab Kits shipped directly to you. Now you can do Genetic Testing when you need it – Without waiting for Sales! Password: Gold3nH3alth